Label Printers
We supply a wide range of both direct thermal and thermal transfer printers for label printing.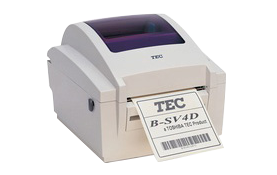 Barcode Label Printers
Thermal Label Printers
Colour Label Printers
Desktop Label Printers
---
Standalone Labelling
SOLO for Toshiba is a unique label printing system designed to remove the necessity of having a computer connected to your thermal label printer at all times.
At the heart of the system is the intelligent SOLO keyboard, a programmable device which is capable of storing label templates and product information sent to it by a PC computer running the inclusive SOLO Studio label design software. Once the SOLO keyboard has been loaded with label information it can be disconnected from the computer and taken to where the label printer is located. When the keyboard is plugged in to the printer the operator can recall the label templates and print them at will using just a few key presses as many times as required!
This makes SOLO ideal for applications where having a computer near to the label printer is not desirable or not possible such as in a food processing environmentor where the label print operator is not computer savvy.

---
For more information about Label Printers, please Contact Us.